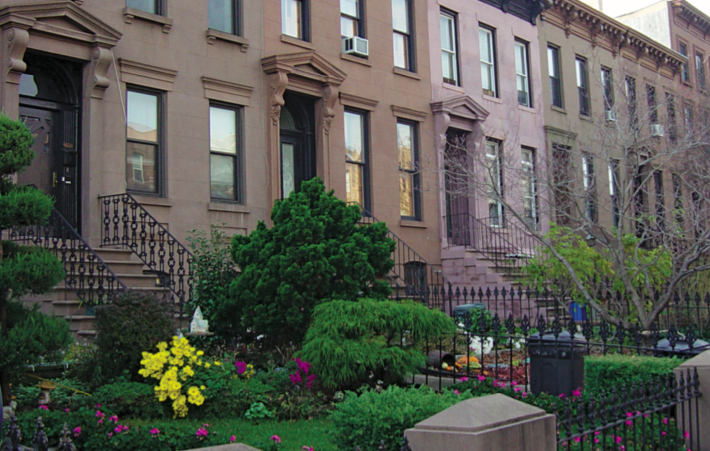 The Non-Hipster Guide to Brooklyn
Posted on
January 10, 2018
Quick! Do a word association with Brooklyn. Hipster. Expensive. New York City. Millennial. Avocado toast. Hipster. Coffee shops. Bridge. Hipster.
For those of you who want to experience more of the borough than fancy drinks and cool kids in thick-rimmed glasses, put on some arch-supporting shoes and take to the streets of Brooklyn. While you may bump into some people posing for that perfect Instagram photo in Dumbo or be beckoned by the scent of a locally sourced lunch, you can also admire the historical architecture, visit the bustling waterfront, and discover all the spots other tourists haven't yet.
Green-Wood Cemetery
7.5 miles
Dead men—and women—tell a lot of tales at Green-Wood. They are tales of life in 19th-century New York, tales of the Civil War, tales of fame and infamy, tales of fortunes made, art created, companies and cities built, of causes championed, tragedies endured, and firsts accomplished. Since it opened in 1840, more than 550,000 people have been laid to rest at Green-Wood, one of the nation's first cemeteries not located within a churchyard. Some of its "permanent residents" are still well known today, others were prominent in their day but since forgotten, and plenty were ordinary citizens. But focusing strictly on the deceased is missing the point, and beauty, of Green-Wood. This 478-acre greensward of hills and ponds was designed to be a rural oasis in a harsh industrialized city. There were almost no public parks when it opened, so people came here to reconnect with nature and enjoy the outdoors.
Gerritsen Beach
2.75 miles
Whereas people in other neighborhoods may be concerned about an invasion of gentrifiers, the folks in Gerritsen Beach aren't used to seeing any newcomers. And a lot of them are content to keep it that way. Situated on a peninsula of southeastern Brooklyn, unserved by the subway, this is a traditional, insular community where families have lived for generations. It's so tight-knit, most residents stayed put during Hurricane Sandy even as 10-foot floodwaters gushed in; rebuilding is still going on. Catch a whiff of sea air, and you've got a picture-postcard fishing village.
Gravesend
3 miles
One hundred and forty-four years before the United States adopted its Constitution, a town was founded on the ideals of religious, social, and political freedom and equal rights for all. Most extraordinary of all, its founder was a woman, Lady Deborah Moody. Gravesend, the town she established in 1643 and received a land patent for in 1645, started as 28 lots on 17 acres but eventually grew to encompass the entire southern sector of present-day Brooklyn (including Coney Island). Turn left on Gravesend Neck Road, stepping within the bounds of the original town of Gravesend. Lady Moody was a visionary of urban planning as well as socio-politics. She laid out a rectangular grid of four quadrants, each with an equal number of lots and a commons at the center—a design regarded as a forerunner of modern urban planning.
Fort Greene
2.5 miles
Fort Greene is one of those Brooklyn neighborhoods where it's hard to go wrong. Want to see that quintessential Brooklyn streetscape? Fort Greene's got some of the nest blocks in the brown- stone belt. Enjoy the arts? Not only is Fort Greene home to the country's oldest performing arts institution (the Brooklyn Academy of Music, or BAM), it also has professional theaters, art galleries, even entire buildings dedicated to providing artists of various genres with a place to flourish. Crave some fresh air? Fort Greene Park offers 30 acres of Olmsted and Vaux–designed greenery. History buff? The park took the place of a Revolutionary War fort, and atop its 105-foot hill stands a stirring memorial to the thousands who died aboard British prison ships in the Brooklyn harbor. Fort Greene has a vibrant restaurant and retail scene too, as well as sites connected to cultural figures past and present.
---
Ready to hit the city streets? Grab a copy of Walking Brooklyn by Adrienne Onofri!