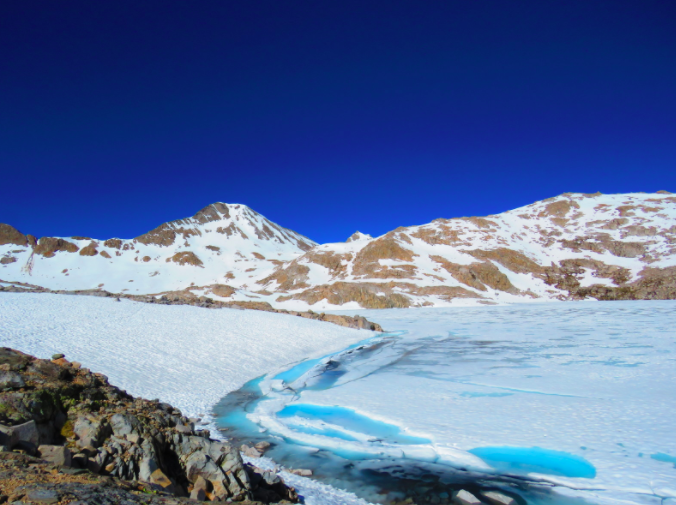 "Fire and Ice": the Challenges of the PCT in 2017
Posted on
October 6, 2017
Weather curveballs, wildfire detours, and other challenges are nothing new for Pacific Crest Trail hikers. But this year brought an unprecedented amount of difficulties for thru-hikers tackling the legendary 2,650-mile route from Mexico to Canada. Record snowpack. Swollen rivers. Raging wildfires in the Pacific Northwest that closed trail access or left hikers navigating mountains engulfed in smoky haze. In perhaps the saddest news, two thru-hikers lost their lives in late July, in apparent drownings while attempting separate river crossings in the High Sierras.
The year was marked with so many hindrances and detours, some hikers came up with a slogan: "PCT Class of 2017: We tried." Others dubbed it "The year of Fire and Ice."
As the 2017 thru-hiking season winds to close this month, we take a look at the tragedies and challenges of 2017 and their impact on both hikers and the trail itself going forward.
Many hikers opted to drop out at Kennedy Meadows or Kearsage Pass, or skip the Sierras entirely, as word spread of heavy snowfall and dangerous river crossings. Others forged on, taking extra Zero Days to wait out snowmelt or build up extra strength. One group took a break in Lake Tahoe to practice fording techniques in the rapids, then returned to Kearsage Pass with renewed confidence and strength that allowed them to safely tackle multiple river crossings and snow-covered climbs.
"This is an exceptionally bad year," one trail angel posted on the Class of 2017's Facebook page. "In my 12+ years of doing angel work, this is the first time I seriously doubted anyone would finish the trail with no flipping." Last year, more than 700 hikers completed the trail, according to the Pacific Crest Trail Association's 2,600-miler list. This year's numbers have just started rolling in with the season's close and won't be available until November, but observers believe it will be significantly less than last year.
Meanwhile, many are calling for memorials for Rica "Strawberry" Morita and Chaocui "Tree" Wang, the hikers who died on the trail this year. One observer suggested creating a Hiker Hall of Fame that honors not only fallen hikers, but those who set records, served as trail angels or helped the trail in other significant ways.
"A memorial is an important thing and it's something that needs to be done right, says Angie Williamson, director of philanthropy at the Pacific Crest Trail Association. A brick-and-mortar tribute is not something the PCTA has the capacity to take on right now, Williamson said, but she points to the Appalachian Trail's plan to open a memorial garden (groundbreaking is set for this fall) at its Harpers Ferry, West Virginia, visitors center as something to aspire to in the future. "That's the kind of thing we'd like to see, and maybe someday we'll be able to do something along those lines," she said.
Meanwhile, impromptu memorials have popped up for "Tree" and "Strawberry," the trail names of the late hikers. At Carmen's Place, a hiker-friendly cafe in Julian, owner Carmen McNerney lets hikers paint their feet and leave their footprints on a walkway. After Strawberry's death, they created a memorial of sorts with hearts and flowers around her footprints. Another thru-hiker took it upon himself to carry photos of Strawberry and Tree with him on the last third of the route and snap photos of their images at the northern terminus for their families, noting that he did not know them, but "this was just a minor thing that I could do for them as a same thru-hiker."
One thing is for sure: this year's brutal conditions haven't frightened next year's class away, even though miles of the PCT remain closed indefinitely in Oregon and Washington and it may take months to assess the full extent of damage. If anything, it has brought this already tight-knit community even closer, as evidenced from the ebullient social media posts coming in from the northern terminus:
"So 'Pickles' and 'Fancy pants' have finished hiking Mexico to Canada (with miles missed in between due to snow, fire and health issues)," one couple posted on Facebook on September 14. "Still so proud of the epic effort we have made! Thank you to all the beautiful hiker trash and wonderful selfless trail angels we made friends with along the way. You helped make the trail what it is …. SPECTACULAR! Class of 2017, you all ROCK."