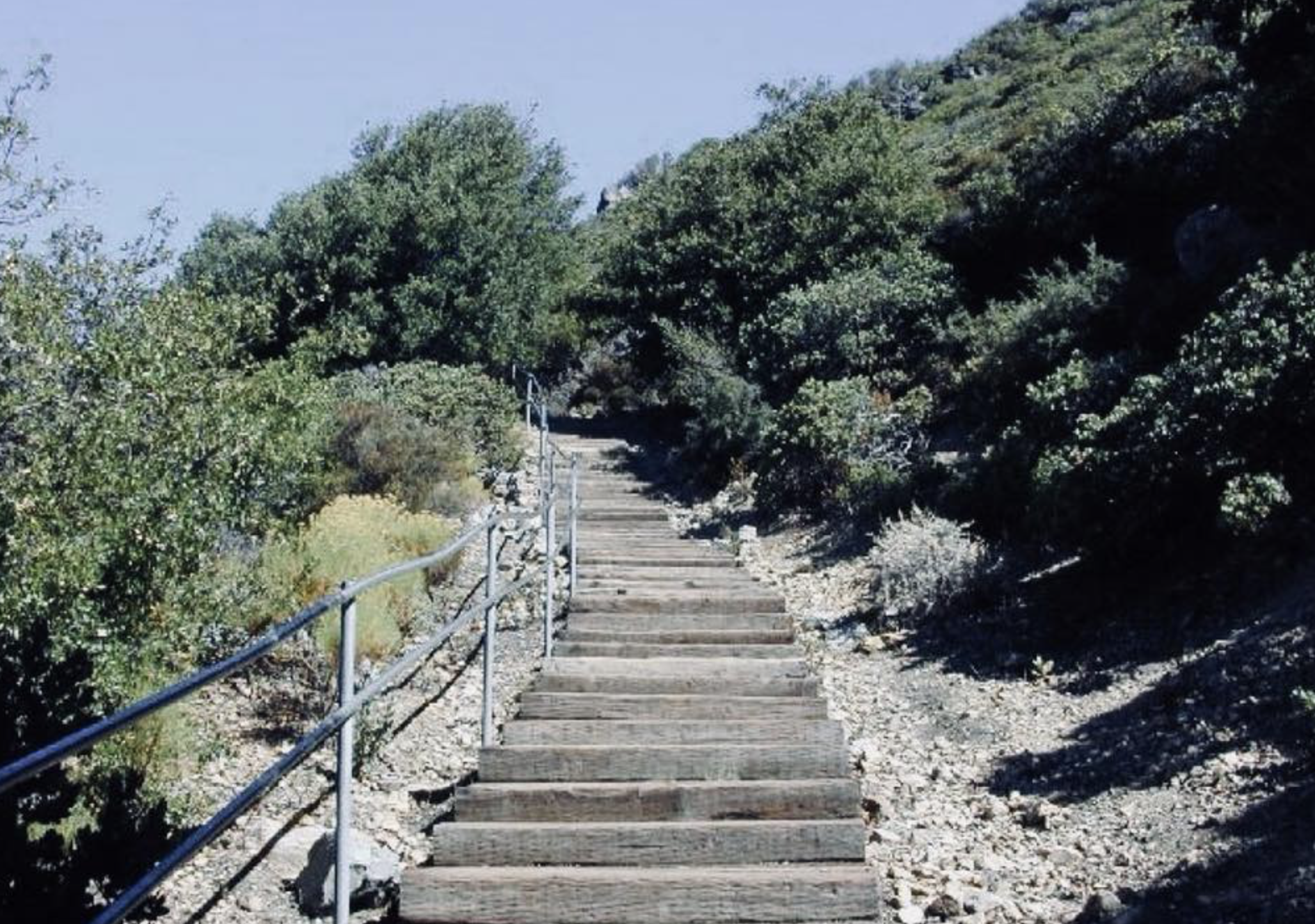 Where to do a Stairway Workout in San Francisco
San Francisco is a city made urban mountain training. It's laughably hilly in spots, making it the perfect playground for hill repeats with a heavy pack. And San Francisco has the added bonus of having hundreds of colorful, interesting, and historical public stairways to climb. You could incorporate a different stairway into your workout for years and not get bored.
If you have a big backpacking trip later this summer, a mountain trail race to train for, or just want a free leg-burning workout in the city, here are three stairways to climb from Stairway Walks in San Francisco by Mary Burk with Adah Bakalinsky.
Bernal Heights East
Bernal Heights sits high above a maze of major thorough-fares: Alemany, Mission, and Cesar Chavez Streets; US 101; and I-280. It is part of what was once the Rancho de las Salinas y Potrero Nuevo (the Salinas ranch and pasture), granted to Jose Cornelio de Bernal in 1839 by the Mexican government. In the 1860s, the rancho (one league square, approximately 4,000 acres) was subdivided, and Vitus Wackenreuder made a survey of Bernal Heights. Wackenreuder plotted his streets narrow and his lots small—23 by 76 feet. Most of them do not meet today's city minimum size specifications. The east slope exceeds a 45% grade in many places, and its geological composition has hazardous landslide potential.

Along with improved streets and water lines, the area now has, as of this latest writing, 50-plus stairways, with many of them constructed in the unused rights-of-way and on hills too steep to construct a street. The east slope is now one grand forest of stairway trails to explore.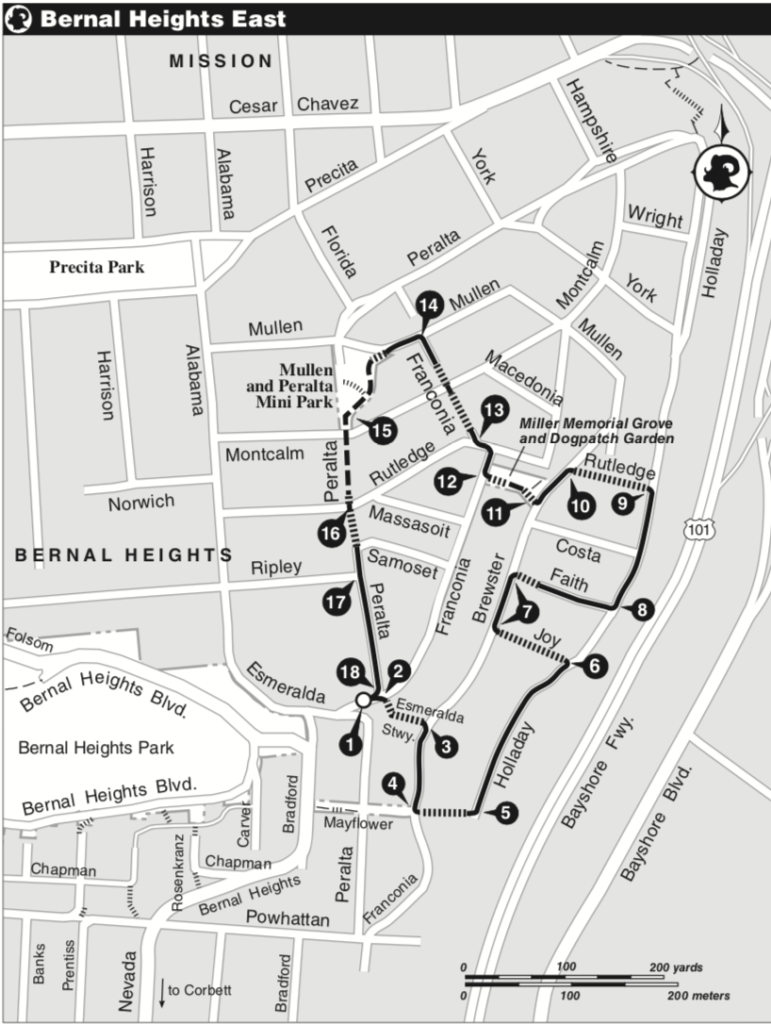 Noe Valley
Noe Valley is a little town inside a little town. It's an insulated little valley, a sheltered neighborhood, surrounded by low hills. Noe Valley is rather quaint too, as many longtime residents still claim, and the same is said by others who have moved away, lamenting. The enclave helped stop freeway sprawl in San Francisco, sometimes referred to in planning maps as the Southern Corridor, never to be built over the hills to West Portal. That plan for a freeway was stopped, and it let a neighborhood continue to thrive.

The walk itself features the thriving Noe Valley neighborhood's main thoroughfare. Also featured is a walk up one of the city's steepest streets, grade recorded at 32%, with a stairway built into the sidewalk. You can traverse the terrain much as the early settlers did, from bluff to bluff, with a nice walk down older residential streets that still remain quiet, save the noise of a far-off car. Victorians restored or retained here are definitely picturesque. Walk highlights include six stairways to keep you skipping, two open space areas inviting your leisurely visit, and views worth the walkabout in a place once known as Horner's Corner.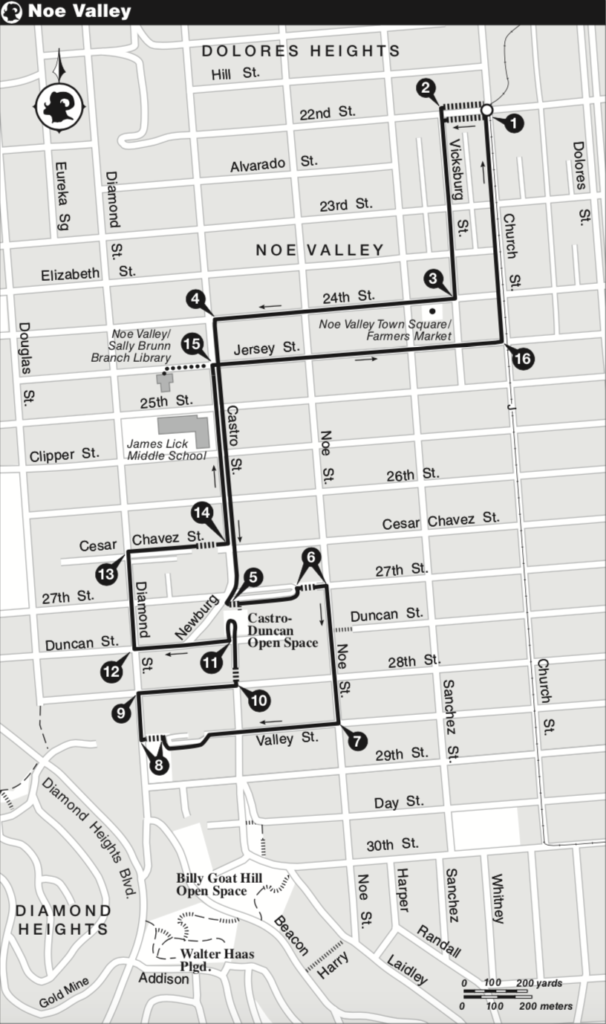 Golden Gate Park – The East Side Route
Discovering how big Golden Gate Park really is takes days of exploring. And it's worth it. The park has something for everyone: reflection, adventure, and so much beauty, both natural and man-made. Modeled after New York's Central Park, Golden Gate Park was designed by William Hammond Hall, who was asked to create the park by John McLaren in 1871.

The park is quite large at 1,017 acres, and that is partly why this walk is named the East Side Route. Golden Gate Park west of 19th Avenue is also very nice but has much more of a slowly sloping downward angle out to the Pacific Ocean. Instead, this walk keeps you east of 19th Avenue and takes you along a most pleasurable circuitous route through some of the best attractions Golden Gate Park has to offer. Walk highlights include multiple stairways, a possible hint of corpse flower, two waterfalls, and a Celtic cross; I can even promise you a rose garden. Allons-y!