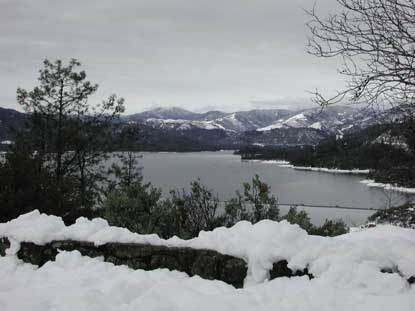 Things to do Instead of Hiking in Trinity Alps This Winter
Posted on
November 26, 2018
The Trinity Alps region is a beautiful place for winter recreation, a destination for hikers, cross-country skiers, snowboarders, and snowshoers.
Except for this year. In the summer of 2018, while our new edition of Trinity Alps & Vicinity by Mike White was in production, sparks from the rim of a trailer's flat tire started the devastating Carr Fire, which torched the trails in Whiskeytown National Recreation Area, burned more than 225,000 acres, and destroyed more than 1,000 homes.
As of December 2018, the National Park Service still has a partial closure in effect for Whiskeytown National Recreation Area due to the Carr Fire. But while you may not be able to hit the slopes or venture deep into the mountains, there's still plenty to do in the area!
You can go to the Whiskeytown National Recreation Area Visitor's Center
If you're looking for a good weekend activity, the Visitor's Center escaped fire damage and is open to the public from 10 a.m. – 4 p.m. daily. You can learn about the history and development of Whiskeytown, daydream about panning for gold and striking it rich, and pick up some souvenirs (like our book!) in the store.
You can go hiking or snowshoeing on the Shasta Divide Nature Trail
While the majority of the park's trails are closed, the Shasta Divide Nature Trail right next to the Visitor's Center is open. While only .4 miles in length, it's a great way to get some fresh air and appreciate everything you just learned from the park rangers inside the center.
You can have pretend apres-ski brews
We all know that half of the adventure is eating and drinking once we come off the trails and slopes. Pretend you had your fill of pow and hit Trinity County Brewing Company, Fall River Brewing Company, or Mount Shasta Brewing Co. You can also hit any of these local restaurants.
You can go to a tree lighting ceremony
Trinity County has a jam-packed event calendar in December! You have your choice of tree lighting ceremonies, Nutcracker performances, and holiday dances.