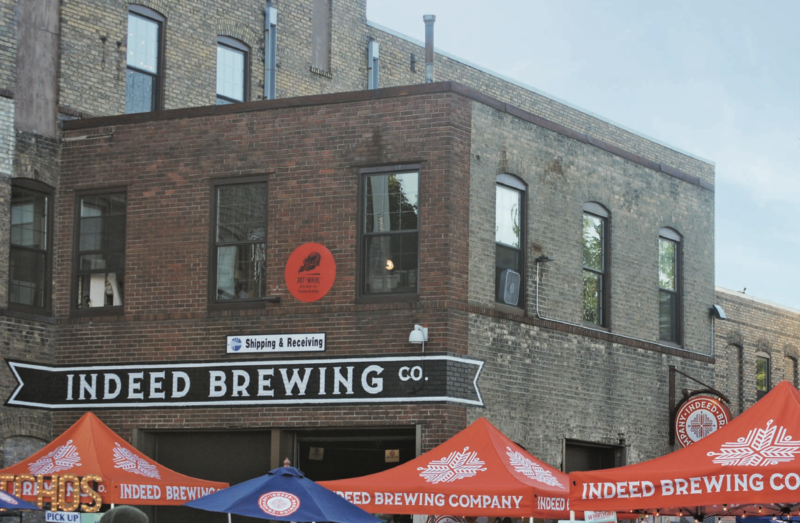 This Minneapolis Brewery Tour Is the Perfect Fall Activity
Posted on
October 19, 2018
Minneapolis in the fall is spectacular. The air is crisp, the leaves are vibrant, and the lakes are as dazzling as ever. Oh, and the beer is delicious.
Fall is arguably the best time to explore the Northeast Minneapolis Brewing District on foot. You can toast the great weather with a spicy cider, robust Oktoberfest, or smooth stout. And not to sound alarmist, but winter is coming soon to Minnesota. It's best to get your leisurely strolls around the Twin Cities in while you can still feel your legs, before the frigid air and relentless snowfalls drive you indoors until spring.
Grab some friends, download Lyft onto your phone, and enjoy this brewery walk from Walking Twin Cities this weekend.
BOUNDARIES: Broadway St. NE, Quincy St. NE, 26th St. NE, Polk St. NE
DISTANCE: 3.25 miles
DIFFICULTY: Moderate
PARKING: Free parking available on Fillmore, Summer, and Polk Sts.
PUBLIC TRANSIT: Bus lines 10 and 17
Start at the corner of Summer and Fillmore Streets and head north. Northeast Minneapolis was constructed before city zoning laws, so factories and renovated industrial buildings sit beside residential homes.
Cross Broadway Street Northeast and turn left, heading west.
Continue east and cross Tyler Street. On the right is the Broadway Building—grab a coffee at Spyhouse Coffee Company or a beer at 612 Brew on the street level.
Continue east, crossing Central Avenue, with a beautiful view of the business district to the north. The latest Broadway–Central Bridge was constructed in 1987 and reflects the area's rich ethnic history with motifs that include French, Polish, Lebanese, and African.
Turn right on Quincy Street. On the block in a freestanding structure is Able Seedhouse & Brewery—an example of the new businesses found in the area. It is the first in the state to malt its own barley for brewing. After the sidewalk ends, walk carefully on the east side of the street.
Turn right on 14th Avenue Northeast. North is Indeed Brewing Company, located in the Solar Arts Building.
Turn left to go north on Central Avenue. After passing under the railroad bridge, on the left is the Thorp Building, another massive complex of galleries, businesses, coffee shops, and even Tattersall Distilling's craft cocktail lounge.
Continue straight, crossing 18 1/2 Avenue. On the left is Maya Cuisine, frequently lauded as one of the best Mexican restaurants in the Twin Cities.
Continuing north, after crossing 24th Avenue, you encounter several outstanding dining options: El Taco Riendo, specializing in savory tacos; Costa Blanca Bistro, featuring critically acclaimed tapas; and Sen Yai Sen Lek, offering fresh Thai food.
After crossing Lowry Avenue, on the left is Fair State Brewing Cooperative. Next door is Aki's BreadHaus, with authentic German bread and pastries.
Turn right to cross 26th Avenue, and then turn right again to head south on Central Avenue.
Continue south under the railroad bridge and absorb the view of downtown Minneapolis. After crossing 14th Avenue turn left.
Turn right on Tyler Street (there is no sidewalk) while walking carefully near the buildings.
On the left is Crown Center, a complex of six rehabbed warehouse buildings that includes the superb German-inspired beers of Bauhaus Brew Labs.
Turn left on Broadway Street. Then turn right on Fillmore Street to finish the walk.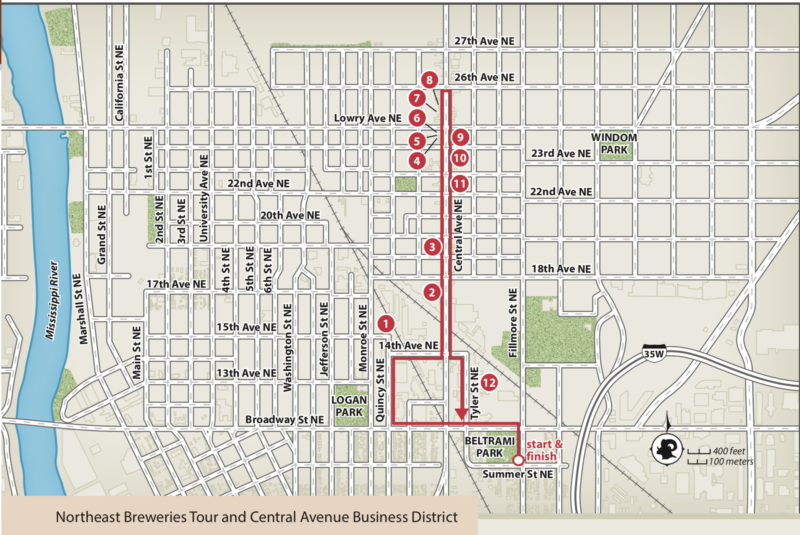 For more walks around Minneapolis and St. Paul, grab a copy of Walking Twin Cities by Holly Day and Sherman Wick.