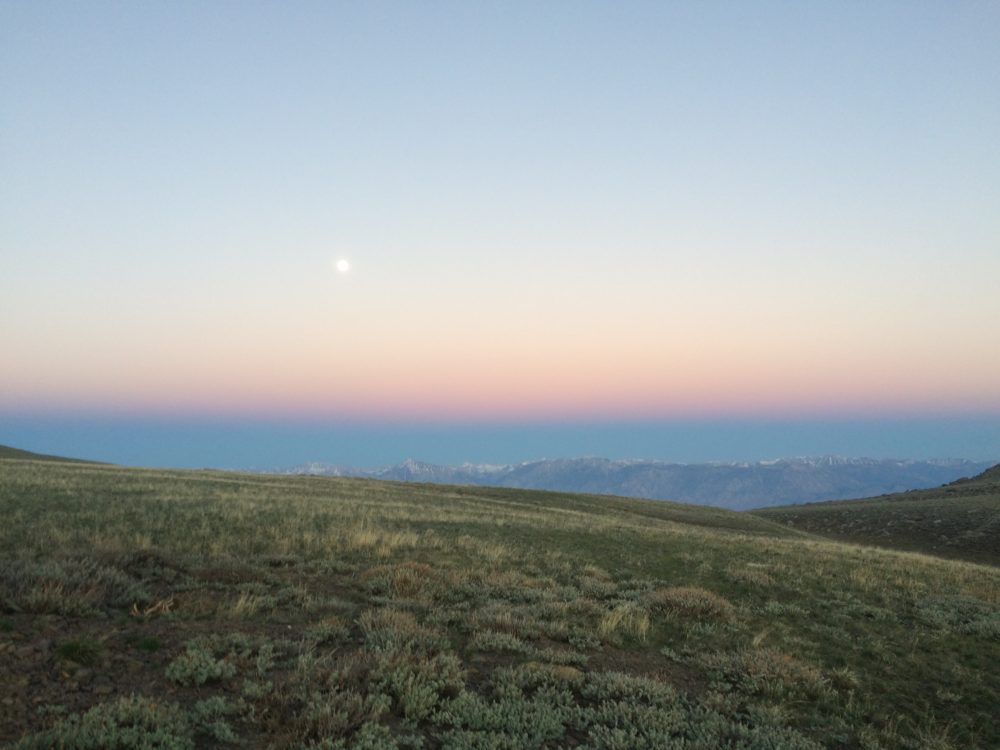 How to Get Excited for an Alpine Start
3 a.m. Alarm going off. Groan at ungodly hour. Reconsider life choices. Reconsider waking up and running. No. Must go run. Ugh.
Slide out of bed. Struggle into clothes set out enthusiastically the night before. Stupid idea. Running is stupid. Sit down to put on socks. Fall asleep with one sock on. Wake up. Reconsider running. No. Must go.
Stumble into bathroom. Doze off while brushing teeth. Toothpaste hair, don't care. Grab headlamp, water, pack. Go out to car. Forget keys. Go get keys. Go back to car. Must. Wake. Up.
Drive to trailhead. Easy drive, no traffic. Duh. Normal people are asleep. Be a normal people and go back to sleep.
First to trailhead. Consider crawling into bed in back of car. That's why it's there, right? No. Too comfy. Opt for resting head on steering wheel for just…a…minute…
Loud tapping on window. Burglar! No. Friends ready to run. Crawl out of car. Quiet grumbles about early hour and lack of sleep.
Silently file onto single track. Headlamps switch on. Trail illuminated. Shadows dance on trees. Leaves crackle. Twigs snap. Occasional question or comment. Short, quiet response. Don't talk. Too early to talk.
Abrupt stop. Hill ahead. Slow shuffle upwards. Hands on hips. Hands on thighs. Raspy breaths echoing in the dark. Burning lungs. Listen to groans of friends. Smile. Good. Not alone in suffering.
Reconsider hobbies. Knitting is fun. So is baking. So is napping. Grit teeth. So. Is. Running.
Pry eyes from trail. See first signs of sunrise. Quicken pace. Quads burning. Lungs burning. Strain to make out summit in fading darkness. Almost there.
Gather at top of mountain. Regain breath. Lose breath as sun starts to break on horizon. Gaze in wonder at the blues and pinks and oranges. Pull out phones and snap photos. #Millennial. #NewDay. #MountainsForBreakfast.
Breathe a sigh of contentment. Lift face as first rays dance over mountains. Snap more photos of friends.
Time to go home and go to work. Collective groan, this time less good-natured. Are jobs necessary? Live off the land instead? One last look at wilderness stretching far into the distance.
File back onto trail. Everyone awake. Everyone invigorated. Hoots and hollers ring out as runners fly back down mountain. Rocks tumble. Feet kick up dirt. Stories shouted over din of descending bodies. Laughter. Fall. Slide on butt into next runner. Stand up. Shake it off. More laughter.
Ponytails fly. Arms wave for balance. Blood pumping. Breathless. Fast feet fast feet. Don't fall again. What an adrenaline rush. Better than coffee. Way better than coffee.
Careen off trail and back into parking lot. Collapse into pile of laughing, gasping bodies. Tired? Who's tired? No one here. Sweaty and dirty, maybe, but not tired.
Wave goodbye and drive off, smiling and singing. What a great start to the day.