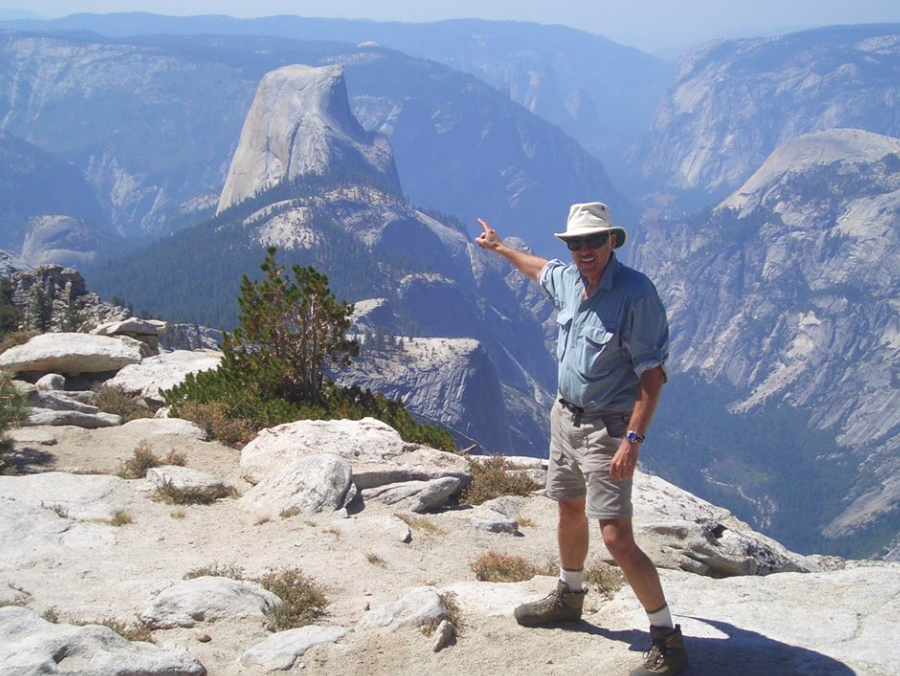 Best Places to Sleep Before Hiking Half Dome
You did it! You are the proud owner of a coveted permit to hike Half Dome later this season! You get to join the ranks of an esteemed group of people who have ascended the cables of this majestic rock.
Now comes the planning process. Selecting a place to sleep during your trip is just as important as planning what to pack and getting in shape to hike.
Luckily, Rick Deutsch, author of One Best Hike: Yosemite's Half Dome, has summited 42 times and knows a thing or two about the best spots to stay.
Half Dome Village
Half Dome Village has a long and hallowed history from when it was first known as Camp Sequoia, then Camp Curry, then Curry Village. Opened in 1899 by David and Jenny Curry, it was designed as a cheap lodging option for valley visitors. Located at the east end of the valley, it is a gateway to many of the park's eastern attractions. The horse stables, Vernal and Nevada falls, the John Muir Trail, Half Dome, and Glacier Point are all accessible from Half Dome Village without driving through the park. Today it offers a variety of lodging options, including 14 cabins with central bath, 56 cabins with a private bath, 18 motel rooms, and 319 canvas tents.
Half Dome Village boasts a grocery and gift store, eateries, an outdoor pool, an ice skating rink, bicycle and raft rentals, children's programs, a comprehensive tour/activity desk, and a free shuttle bus.
If you are not staying in the Half Dome Village area, you will need to get there to be near the trailhead. There is a large backpacker parking lot just east of Curry for your use.
Tent Cabins
Rick's recommended accommodations for your adventure are the Half Dome Village tent cabins. These shelters have wood frames and floors and white canvas tops and sides. They sleep up to four people and are equipped with spring beds, bedding, towels, and a small safe. Each has a single lightbulb (no outlets) and a wooden door with a padlock. No cooking is permitted in or near the tent cabins. Shared toilets are nearby. Men's and women's shower facilities are located in the central part of the village, and their use is included with your reservation. The showers get crowded 4–6 p.m. as day hikers return to camp. Lines may be long, but the hot water is plentiful. Bring sandals, soap, and shampoo. Rates for tent cabins are less than typical motel prices. Be sure to check for current prices.
Tent Camping
Yosemite has 13 excellent campgrounds, and most are reservable. Three sites in the eastern Yosemite Valley are convenient to the hike. They are North, Upper, and Lower Pines. Another, Camp 4, is farther away and is first come, first served. It is on the National Register of Historic Places because of its role in big-wall climbing, and many climbers stay there. The Pines offer about 400 spots and are economical. Depending on your budget and ability to sleep soundly on the ground, tent camping may be for you.
Housekeeping Camp
The Housekeeping Camp, which is a step above traditional dirt camping, is located along the Merced River. Its location is also a good kick-off point for the Half Dome hike. The complex consists of 266 units, each holding up to six people. Structurally, there are three concrete walls, with the entrance being a sliding curtain. Each unit has two single bunk beds, a double bed, a table, chairs, a mirror, electrical lights, and outlets. You must bring your own linens or sleeping bag. Housekeeping Camp's lodging does not include housekeeping service, despite the odd name. A handy Laundromat is located nearby. Restroom facilities here are communal.
No matter where you stay, keep in mind that you'll have to get up with the sun, and you'll want to be close to a shower and a bed the moment you are done.