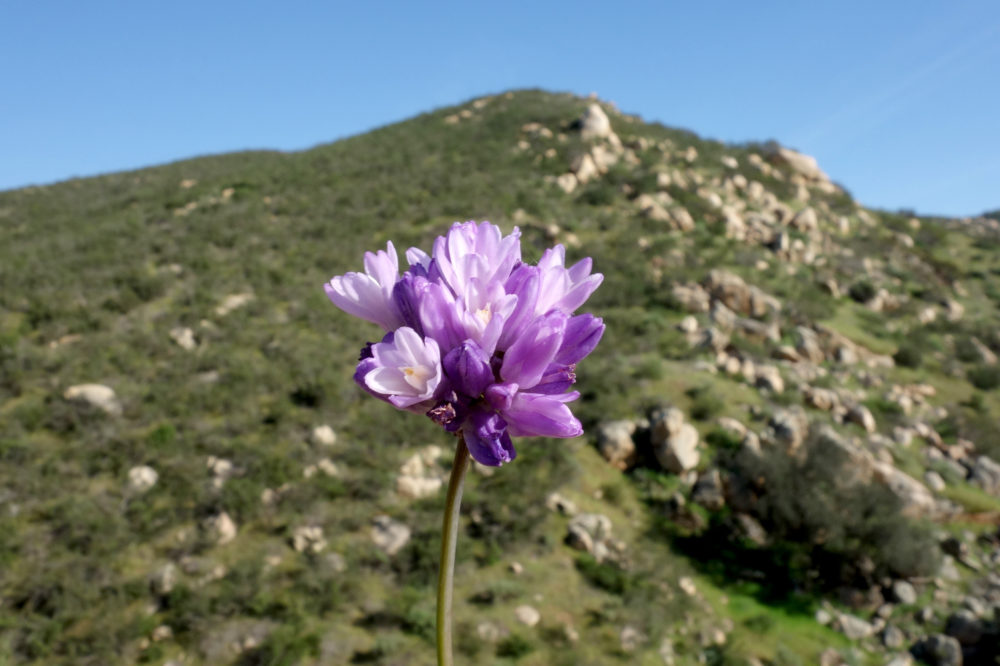 Best Hikes to See Spring Wildflowers in San Diego
Sunshine. Water and waves. Blue skies and mild temperatures. San Diego is a perfect destination all year round for hikers. But come springtime, it's absolutely spectacular. Folks who visit San Diego want to pack up and move there forever, and residents pat themselves on the back for living in paradise.
Check out these easy strolls this weekend and see if you can spot the start of wildflower season.
Torrey Pines State Natural Reserve
Trailhead Location: Just south of Del Mar
Trail Use: Hiking, running
Distance & Configuration: 1–4 miles on looping and out-and-back trails
The rare and beautiful Torrey pine trees atop the coastal bluffs south of Del Mar are as much a symbol of the Golden State as are the famed Monterey cypress trees native to California's central coast. Torrey pines grow naturally in only two places on Earth: in and around Torrey Pines State Natural Reserve and on Santa Rosa Island, off Santa Barbara.
Torrey Pines State Natural Reserve would be botanically noteworthy even without its pines. More than 330 species of plants have been identified there so far. Sage scrub, chaparral, and salt marsh plant communities are present in various parts of the reserve.
If you're interested in identifying plants and wildflowers typical of the coast and coastal strip, the reserve is simply the best single place to go in San Diego County. Excellent interpretive facilities at the reserve's visitor center make this an easy task. Besides the exhibits, you can browse through several notebooks full of captioned photographs of common and rare plants within the reserve. You can also visit the native plant gardens surrounding the visitor building and at the head of the Parry Grove Trail.
If you visit the reserve a number of times during February–June, you'll be able to follow the succession of flowering as the spring season progresses.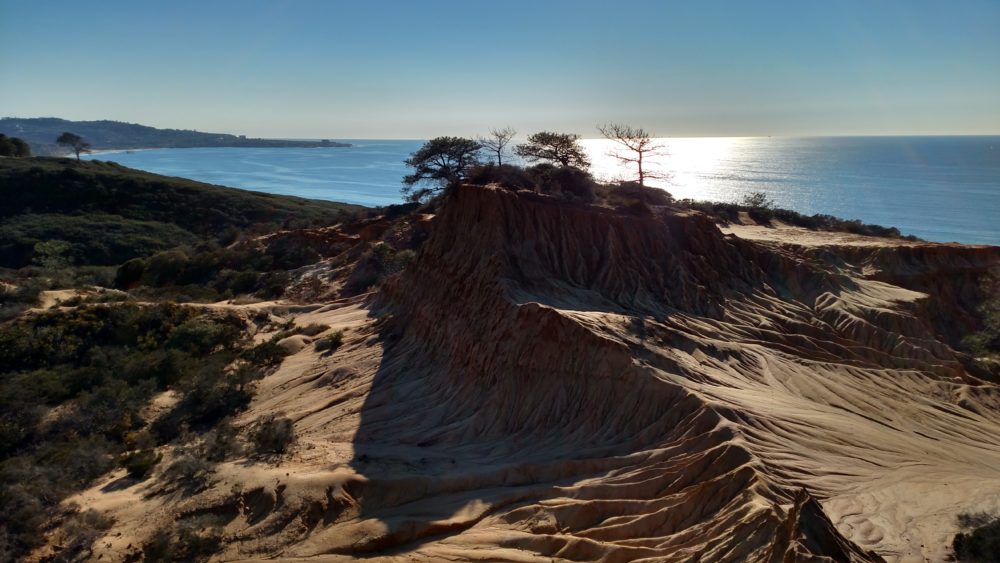 Oak Canyon
Trailhead Location: Mission Gorge, west of Santee
Trail Use: Hiking, dog walking
Distance & Configuration: 3.2-mile out-and-back
Oak Canyon, a sycamore- and oak-lined ravine that winds north from Mission Gorge's Old Mission Dam, is a perfect place to celebrate the return of spring in San Diego. Heavy rains revive the canyon's intermittent stream and transform the hillside vegetation from dormant brown to festive green.
By March annual wildflowers pop up amid the tender new blades of grass, blooming ceanothus (wild lilac) and California poppies color the slopes, and the sweet-pungent smell of sage floats on the warm breezes.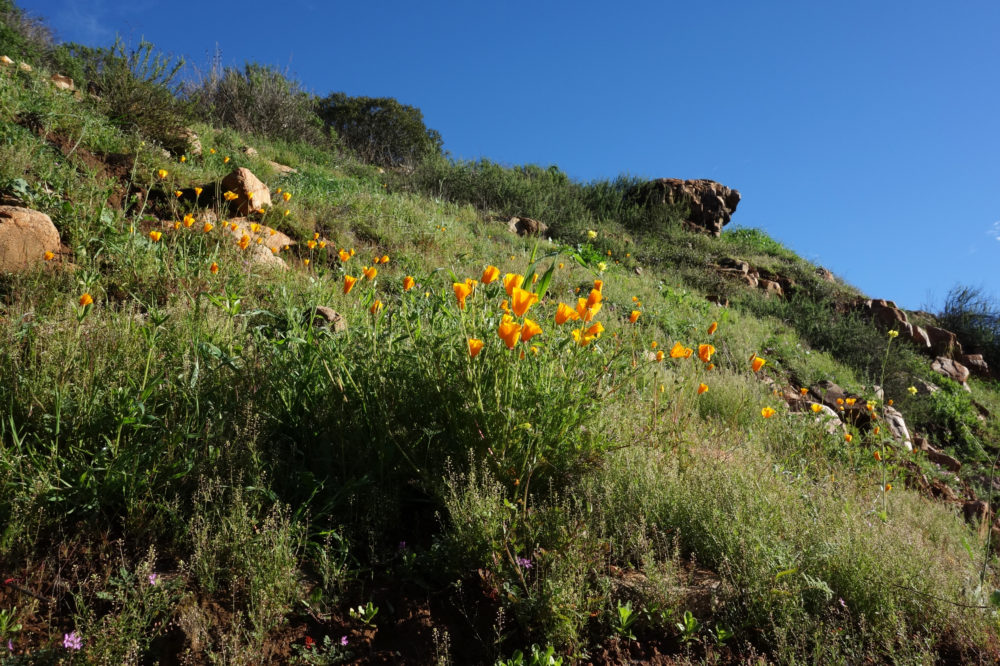 Hollenbeck Canyon
Trailhead Location: East of Jamul in southern San Diego County
Trail Use: Hiking, dog walking, running, mountain biking, horseback riding
Distance & Configuration: 4.4-mile out-and-back or 5.6-mile balloon
Formerly part of a working ranch, Hollenbeck Canyon is now a California Department of Fish and Game wildlife area covering more than 6,000 acres. While primarily serving as protected habitat for birds, animals, and native vegetation, portions are open to all types of nonmotorized travel, plus a bit of seasonal bird hunting.
Like many low-elevation inland locales in San Diego County, Hollenbeck Canyon has a Jekyll and Hyde personality, sunblasted and desolate for the most part in summer and gloriously green—almost lush—in the winter and early spring, when splashes of wildflower color may be found all along this hike. This dichotomy is due purely to the prevailing Mediterranean climate of winter-wet, summer-dry. Down along the canyon bottom itself, however, water (either on the surface or underground during the dry seasons) nourishes shade-giving trees. And the shrubby and grassy hillside vegetation that goes dormant during droughts comes alive with frenzied growth in the weeks following the winter rains. Those rains replenish a seasonal creek with cascades and a waterfall viewable from the upper canyon trail. For this reason, January–April is typically the best time to hike here.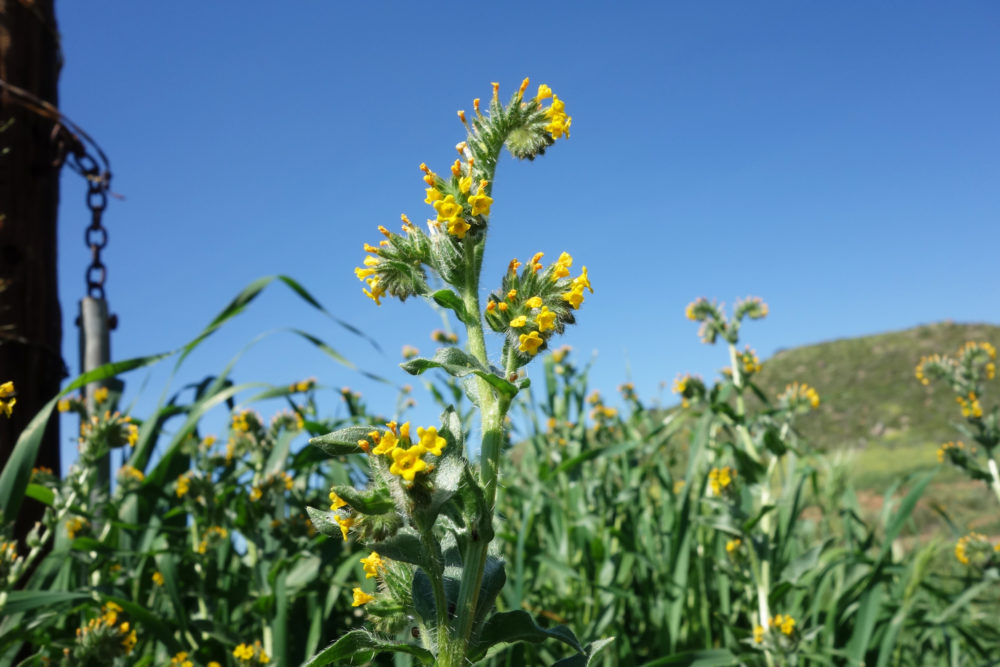 ---
For more short hikes in sunny San Diego, pick up a copy of 50 Best Short Hikes San Diego by Don Endicott and Jerry Schad.