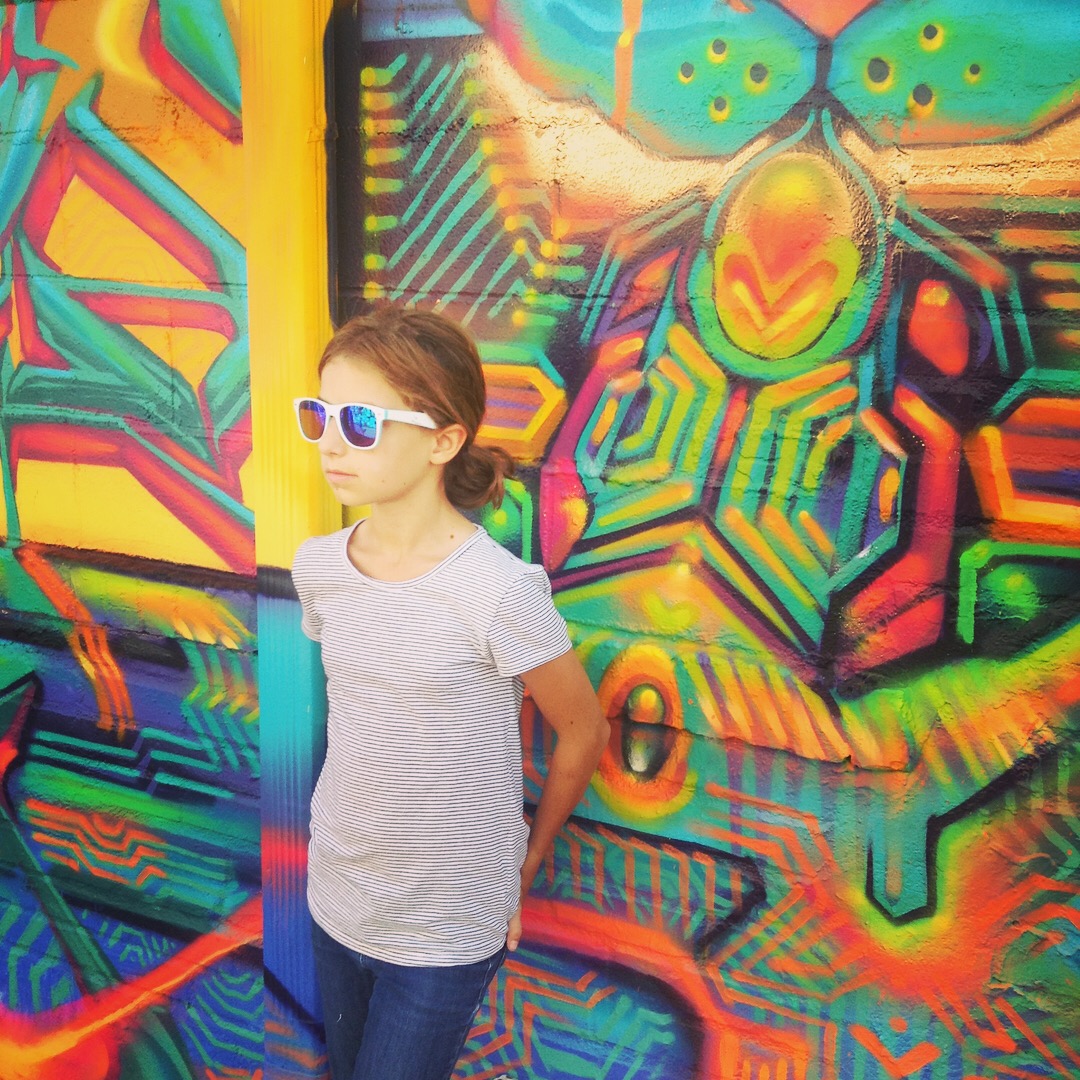 Denver's Culture Is Right Outside Outdoor Retailer
Posted on
January 23, 2018
We are so excited to be in Denver and spend the week exploring a new city!  We're also lucky to have Mindy Sink, author of the upcoming new edition of Walking Denver, acting as our personal tour guide this week. Here are Mindy's walking suggestions if you only have a few minutes between meetings to check out the neighborhood.
---
You don't even have to leave the Colorado Convention Center to see one of the Mile High City's most iconic pieces of public art: "The Big Blue Bear" is looking in at you from 14th St. The bear, formally titled, "I See What You Mean," was created by Lawrence Argent and quickly became a symbol of Denver's public art and outdoor culture.
No matter which way you turn when you do step outside of the convention center, you are going to find art.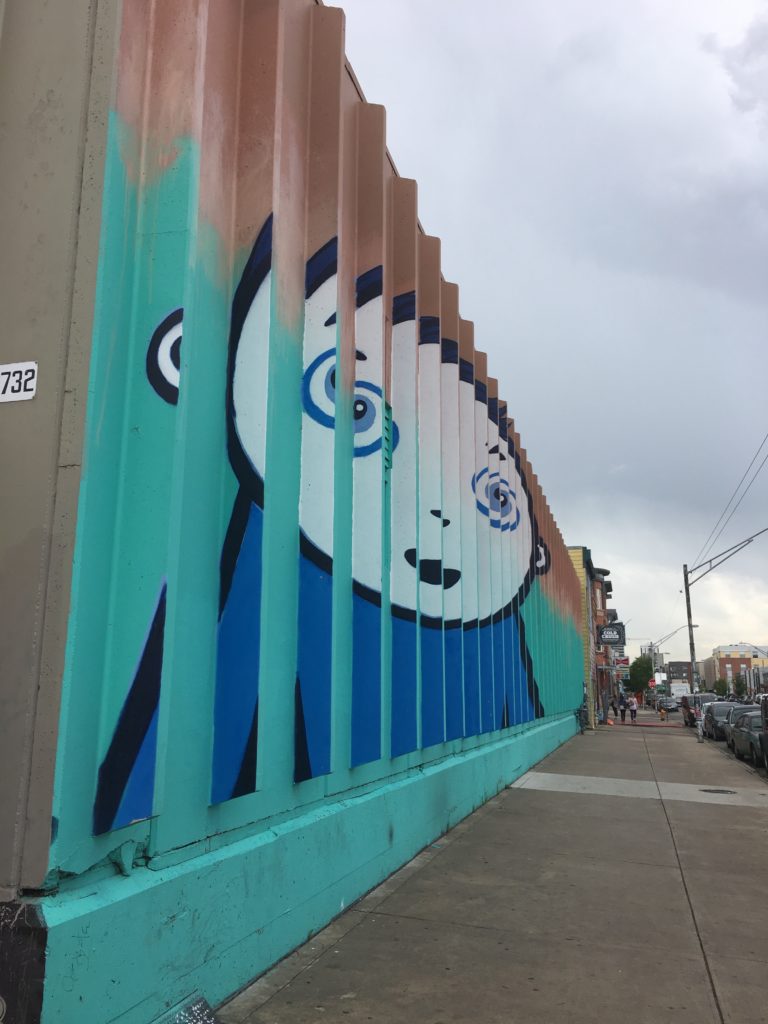 To The Left
If you walk out the north side of the convention center (on 14th St.) and turn left you will walk on top of a new installation, "Are You You," painted on the sidewalk by artist Shantell Martin in 2017. After crossing Champa St., you'll be at the edge of the Denver Center for the Performing Arts and when you reach Curtis St. you can walk through the open air atrium to see sculptures here and there. Peek inside the lobby of the Ellie Caulkins Opera House to see a Dale Chihuly chandelier.
At the corner here you'll see the bright yellow wall and "All Together Now" sculpture outside of The Curtis Hotel. Walk north and cross 15th St. Make sure to walk across the sidewalk grates as these are a piece of public art that emit sounds as you steps cross each one (it's different every time: I've heard subway noise, music and animals).
When you get to 16th St. turn left again and when you get to Arapahoe St. cross and turn right to see Skyline Park, an unusual urban parkscape (partially hidden by a seasonal ice skating rink just behind the historic clock tower). If you choose to walk back to the convention center by way of the 16th Street Mall, you'll see things like concrete chess tables, colorful cows, and other sculptures.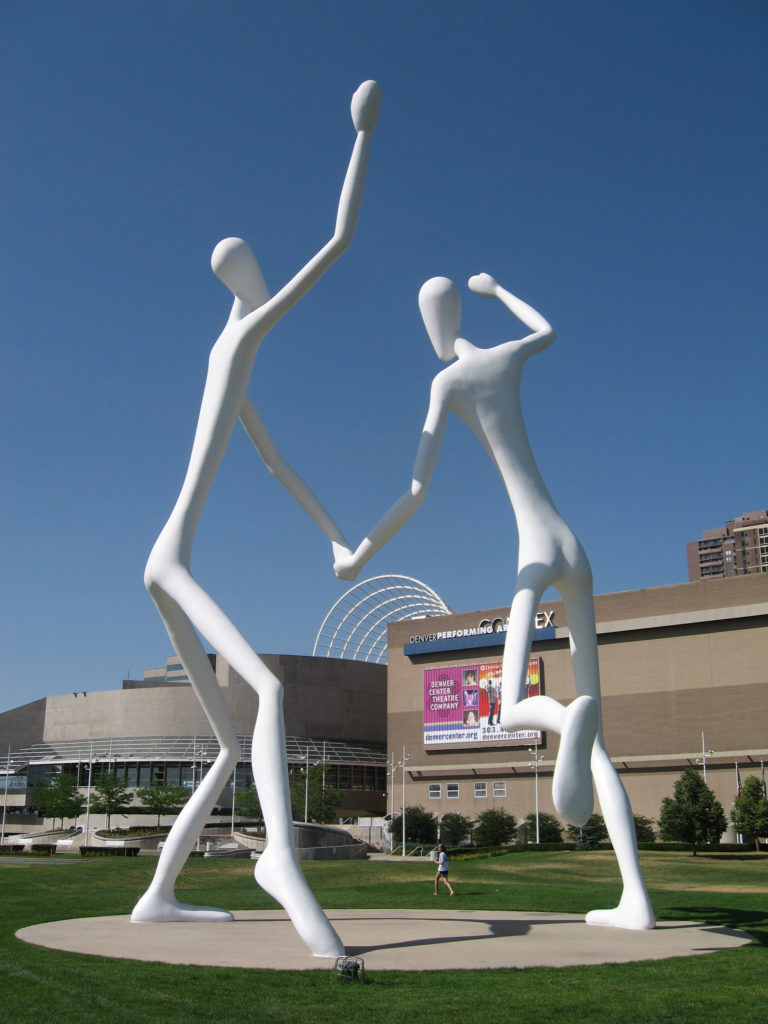 To the Right
If you take a right turn when you exit the convention center on 14th St., you are just a few blocks from the Denver Art Museum and the Golden Triangle Arts District. You'll see giant public art in the form of "The Stone Garden." When you reach Colfax Ave., cross so you want walk through the park and one of the Greek-style buildings. Inside these arches you can look up to see murals by Allen T. True depicting scenes of the West.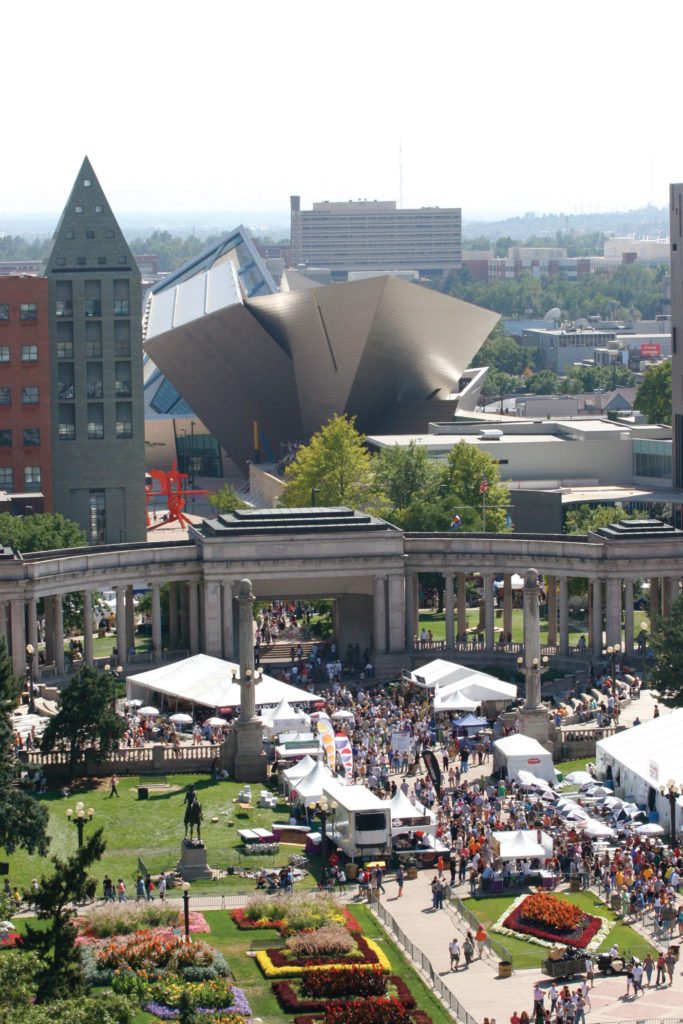 Outside the Denver Public Library and the Denver Art Museum, you will see a variety of public art pieces on display and as you cross 13th St. and the plaza. If you have time, the Clyfford Still Museum here is a one-of-a-kind and worth a visit.