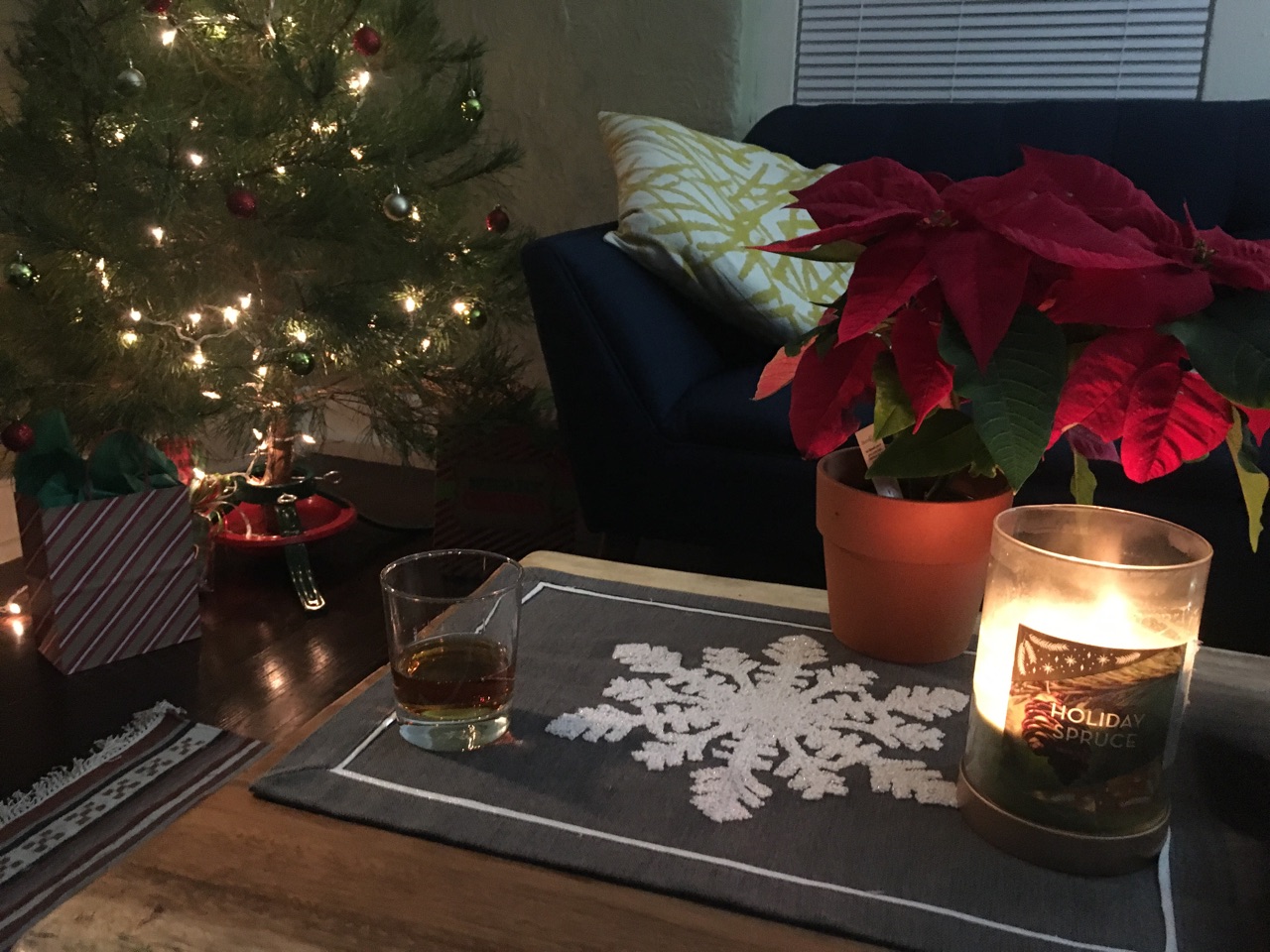 Best Cocktails to Get You Through the Holidays
Posted on
December 18, 2017
One week until Christmas. A mere seven days to finish all your holiday shopping and cleaning the house for your guests and getting your work in order before everyone vacations until the New Year and finding and wrapping the gifts you have stashed away and bracing yourself for holiday traffic and annoying in-laws and meal mishaps. Ugh.
Thank goodness for brown liquors, AmIRight? The holidays can drive anyone to want to drink. A lot. But rather than sadly working your way through a case of PBR, here are some holiday cocktails from Carla Carlton, The Bourbon Babe, that are strong enough to get you through the week, but also fancy enough to make you seem festive, not desperate.
Tuesday—The Bourbon Bliss
1 ¼ ounce bourbon
¾ ounce Grand Marnier
4 ounces of orange juice
Splash of grenadine
Shake all ingredients and serve over ice with an orange/cherry flag.
Wednesday—Woodfood Reserve Butterscotch Manhattan
1 oz. Woodford Reserve
1 oz. butterscotch schnapps
1 oz. sweet vermouth
1 cinnamon stick (garnish)
Add spirits to a shaker filled with ice. Mix well, strain into martini glass and garnish with cinnamon stick. Sip and savor.\
Thursday—Bourbon & Branch's Revolver Cocktail
2 ounces bourbon
1/2 ounce coffee liqueur
2 to 3 dashes orange bitters
Orange peel for garnish
Combine all ingredients except orange peel in a mixing glass with ice and stir. Strain into a chilled cocktail glass and add orange peel.
Friday—Vanilla Bean-Bourbon Champagne Cocktail
1.5 oz. bourbon
1.5 oz. Woodford Reserve Bourbon Vanilla Simple Syrup (1 oz. would work too, if you wanted a little more bourbon flavor)
Korbel Brut (or other dry Champagne)
Stir bourbon and simple syrup and pour into a flute. Top glass off with Champagne and enjoy!
Saturday—The Bill Samuels Manhattan
4 parts Maker's Mark Bourbon
1 part Noilly Pratt Sweet Vermouth
3 drops Fee Brothers Cherry Bitters
Wee-bit cherry juice
Shake with crushed ice and strain into a Manhattan glass.
Sunday (Christmas Eve!)—Holiday Bourbon Eggnog
1/2 cup bourbon
1/4 cup molasses
4 cups eggnog (chilled)
1 1/2 cups milk (chilled)
1/2 cup gingersnap cookies (crushed, to serve)ice (to serve)
In a large pitcher, add the bourbon and molasses, and whisk to combine. Add the eggnog and milk, and mix to combine. Chill until ready to serve and serve over ice. Garnish eggnog with crushed gingersnap cookies.
Monday (Christmas!)—Four Roses Commonwealth Punch
7 lemons (6 for punch, 1 for garnish)
1 cup granulated sugar
4 cups water
8 Chai tea bags
1 cup Four Roses Yellow Label Bourbon
1 can or bottle Ginger Beer (12 oz.)
*Assorted cinnamon sticks, cloves, star anise, etc., for garnish
Instructions:
Peel 6 lemons with potato peeler. Set naked lemons aside. Put lemon peels and sugar in a bowl. Crush peels into sugar. Allow to sit for one hour.
Juice the naked lemons. Strain juice to remove pulp.
Brew the 8 Chai tea bags in the 4 cups of water. Discard bags after use.
Dissolve sugar and lemon peel mixture in Chai tea while warm. Remove peels and discard.
Add 1 cup bourbon and juice from lemons.
Chill in refrigerator. Before serving, add 1 can or bottle ginger beer.
Garnish with lemon wheels and assorted spices floating in punch. Enjoy!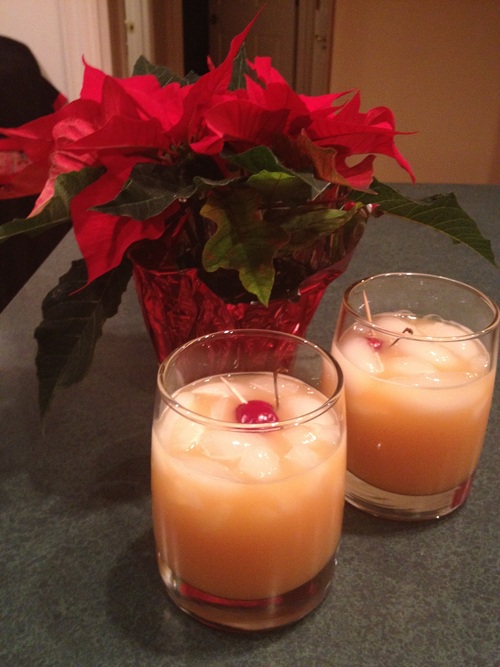 ---
If you like what you've been drinking, pick up a copy of Barrel Strength Bourbon by Carla Carlton.