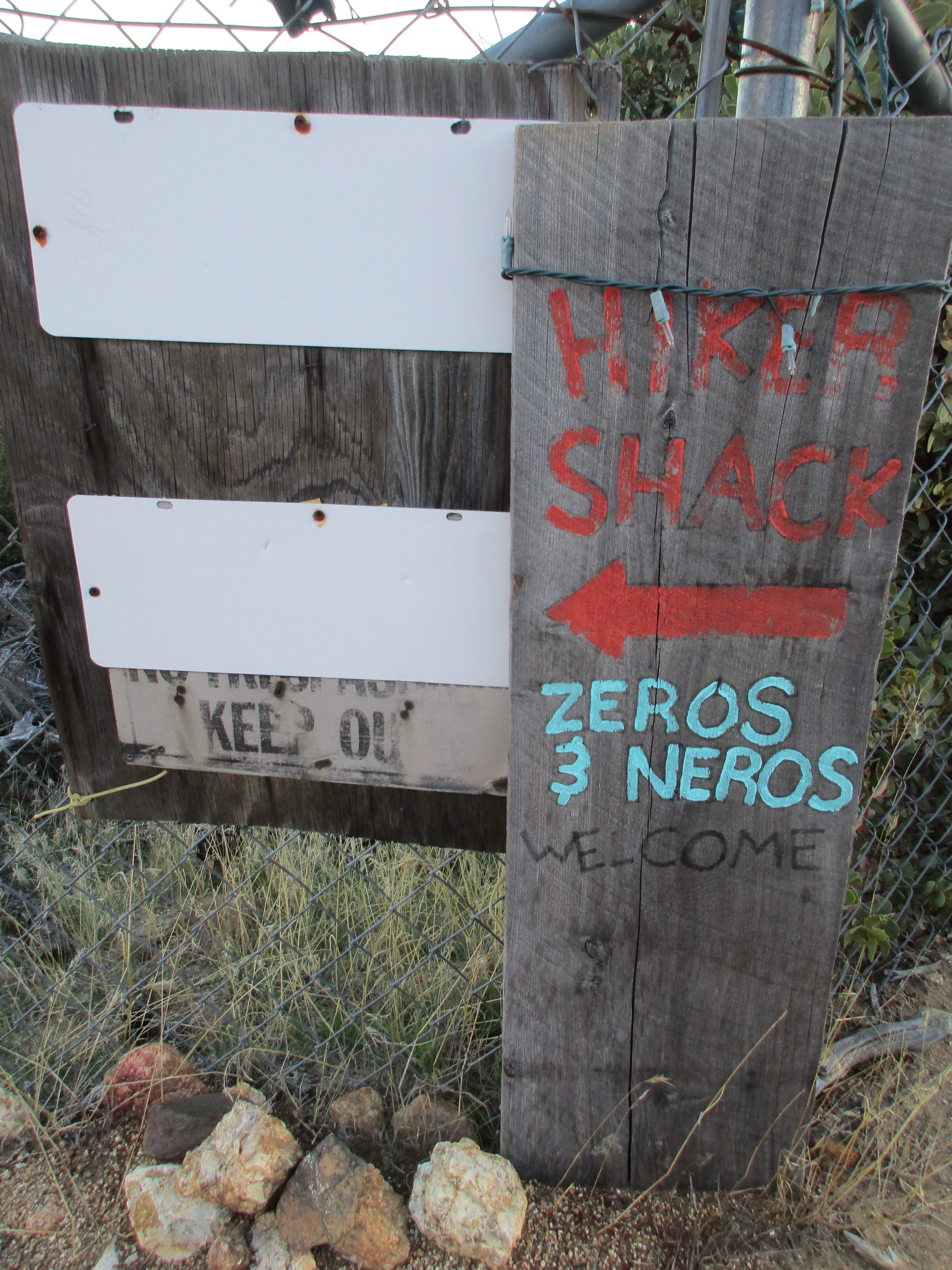 PCT Lingo: A Primer on Hiker Slang
Posted on
October 18, 2017
"Zeros and Neros Welcome"
A few years ago, before I started hiking the PCT, I would have guessed this sign was inviting losers and fiddlers to stop by.
It's actually part of a whole new language you learn on the trail. Situated near Mile 127, this sign is beckoning hikers to stop in and spend the night or a few hours relaxing at Mike Herrera's trail angel property in the middle of nowhere. Zero stands for someone taking a day off the trail, which translates into zero miles being logged. Nero is short for Near Zero, which means a low-mileage day, often due to one's proximity to town or aches and pains that need to be nurtured.
Here's a subjective guide to trailspeak for both novices gearing up for a 2018 thru hike and for armchair adventurers who might follow blogs of friends and loved ones and want to understand when they read something like: "Turbo Snail and I need to camel up because it's 23 miles to the next water cache."
ADZPCTKO
Annual Day Zero Pacific Crest Trail Kick Off, otherwise known as Kick Off. This is a much-loved event that began at Lake Morena County Park (Mile 20) in April 1999 with a mission of helping and educating thru-hikers at the beginning of their journey. It has been a victim of its own popularity in recent years. ADZPCTKO volunteers are still there to greet hikers and provide advice and drinks, but the free meals, gear booths, and party-hard atmosphere are gone.
Cache
An often-hidden supply of food or water at an especially dry stretch along the trail.
Camel up
Drink as much water as you can before embarking on an especially dry section of the trail. Scissors Crossing at Mile 77 is the beginning of a notorious dry stretch that prompts hikers to do this, as is the section between the Cajon Pass and Wrightwood.
Cat hole
A small hole dug to bury human waste, preferably 6 to 8 inches deep and at least 200 feet from the trail.
Cowboy camping
 Sleeping without a tent. It's a great way to stargaze, but many hikers admit to doing it because they're too tired to pound stakes.
Flopping
A strategy used to complete the trail in a single season by hiking a section of trail, then skipping the next section, often due to snowpack or wildfires, with the intention of going back and doing that section later. Many Class of 2017 hikers flopped due to the unusually high snow levels in the Sierras this year.
HYOH
Hike your own hike. Trailspeak for "to each his own." Everyone has his or her own style of hiking — whether it's fast, slow, alone, or in a herd. There's no single perfect way to conquer this temperamental trail.
LNT
Leave No Trace. Code of conduct that adheres to the slogan: if you pack it in, you must pack it out. No exceptions.
NOBO
Northbound hiker who usually starts at the Mexican border in March or April.
Postholing
Hiking in deep snow without snowshoes. It can be agonizing, but it was unavoidable for many hikers in 2017 while crossing the snowy Sierras.
SOBO
Southbound hiker who usually starts in Canada in July.
Trail angel
A person who helps hikers without expecting anything in return. This could be through rides into town, maintaining a water cache, or letting them camp on their property and use their facilities. Thru-hikers consistently cite the kindness and generosity of trail angels as one of the highlights of their adventure.
Trail magic
A random act of kindness encountered along the trail. Could be a lift offered by a stranger to town. Or an unexpected free spread of hot dogs and burgers cooked up by a trail angel near a road crossing or campground.
Trail name
A name thru-hikers are assigned on the trail by other hikers. It usually reflect one's personality, appearance, style of hiking or some unique thing he/she did while on the trail. Fancy Pants, Wrong Way, Turbo Snail and Cheeseburger are a few recent examples.
Triple Crown
An informal title awarded to those who complete all three major U.S. long-distance hiking trails — the Appalachian Trail, the PCT, and the Continental Divide Trail.
Vitamin I
Ibuprofen. Enough said.