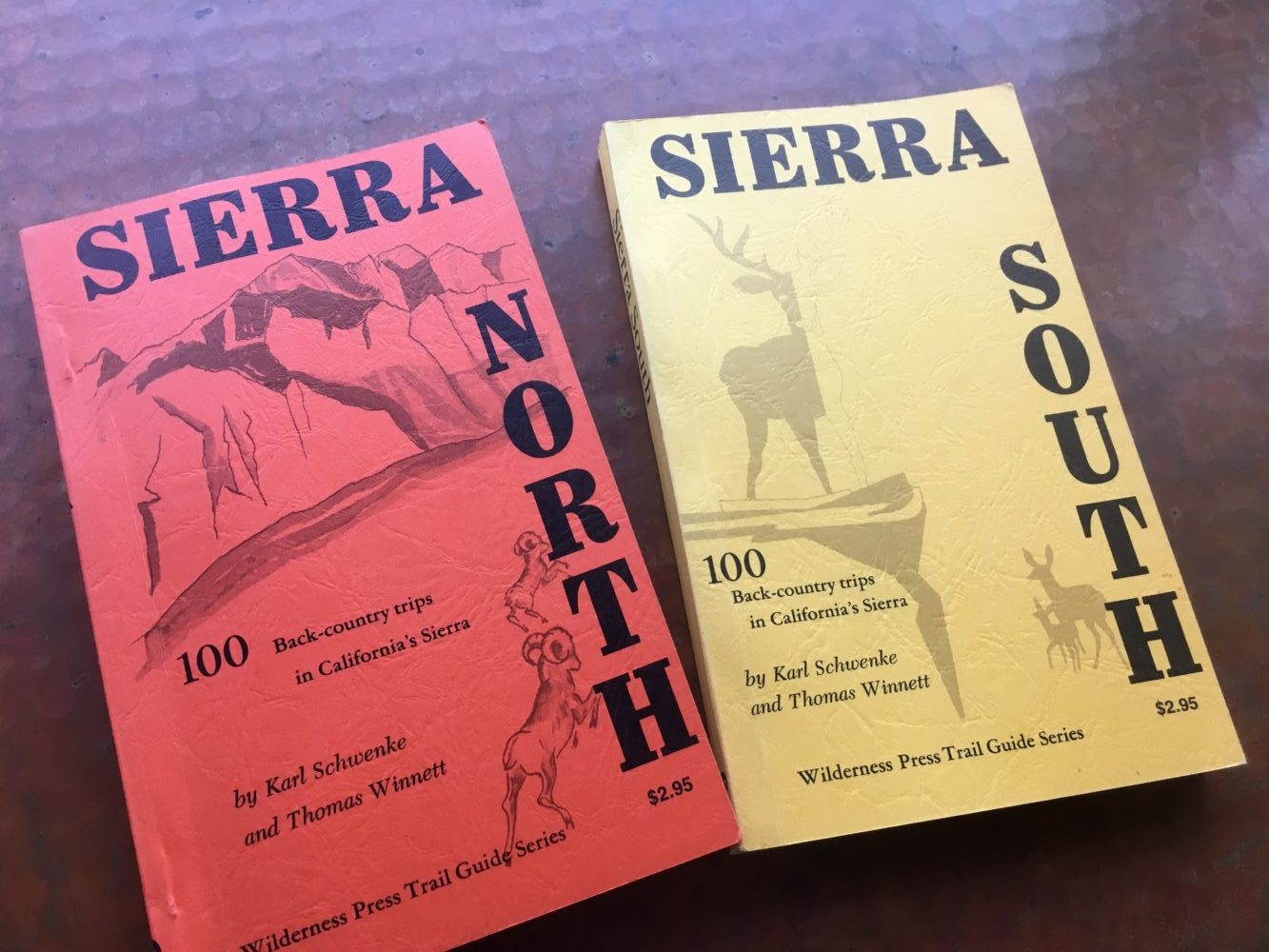 The Magic of an Old Guidebook
It's safe to say that bibliophiles appreciate the tactile aspects of reading. The smell of new ink. The satisfying feel of cracking open a new hardcover. The crinkle of pages turning. The sight of a tattered, earmarked, well-loved novel.
Now imagine holding in your hands a guidebook that is 50 years old. A guidebook that opened the door into a world of mountains and backpacking. A guidebook that forged the trail for outdoor publishing.
Let us introduce you to the most prized possessions of  Wilderness Press—Sierra North and Sierra South by Karl Schwenke and Thomas Winnett. Sierra North was the very first Wilderness Press publication, flying off bookshelves in 1967.
The Winnett family has been integral in helping Wilderness Press celebrate our 50th anniversary. From telling stories about Tom to sharing family photos—and now sending original signed copies of the guidebooks—Caroline and Jason Winnett have taken us on a trip back in time to celebrate the early days of our indie publishing company.
So what did guidebooks look like in 1967? Here's a peek into Sierra North.
Introduction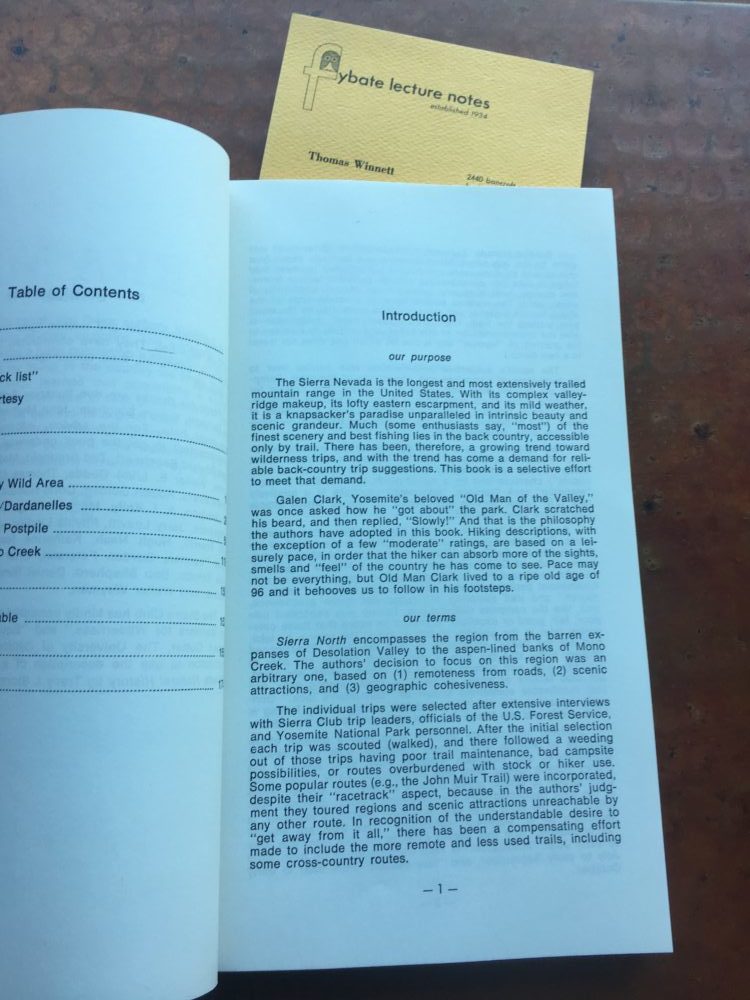 Our Purpose
The Sierra Nevada is the longest and most extensively trailed mountain range in the United States. With its complex valley-ridge makeup, its lofty eastern escarpment, and its mild weather, it's a knapsacker's paradise unparalleled in intrinsic beauty and scenic grandeur. Much (some enthusiasts say, "most" of the finest scenery and best fishing lies in the back country, accessible only by trail. There has been, therefore, a growing trend toward wilderness trips, and with that trend has come a demand for reliable back-country trip suggestions. This book is a selective effort to meet those demands.
Galen Clark, Yosemite's beloved "Old Man of the Valley," was once asked how he "got about the park." Clark scratched his beard, and then replied, "Slowly!" And that is the philosophy the authors have adopted in this book. Hiking descriptions, with a few exceptions for "moderate" ratings, are based on a leisurely pace, in order that the hiker can absorb more of the sights, smells and "feel" of the country he has come to see. Pace may not be everything, but Old Man Clark lived to the ripe old age of 96 and it behooves us to follow in his footsteps. 
Thoughts: The word knapsacker is a blast from the past. Hiking and backpacking were just becoming popular, which meant solitude instead of overcrowding in the woods. And slow, mindful hiking took precedence over setting speed records.
Last-Minute Check List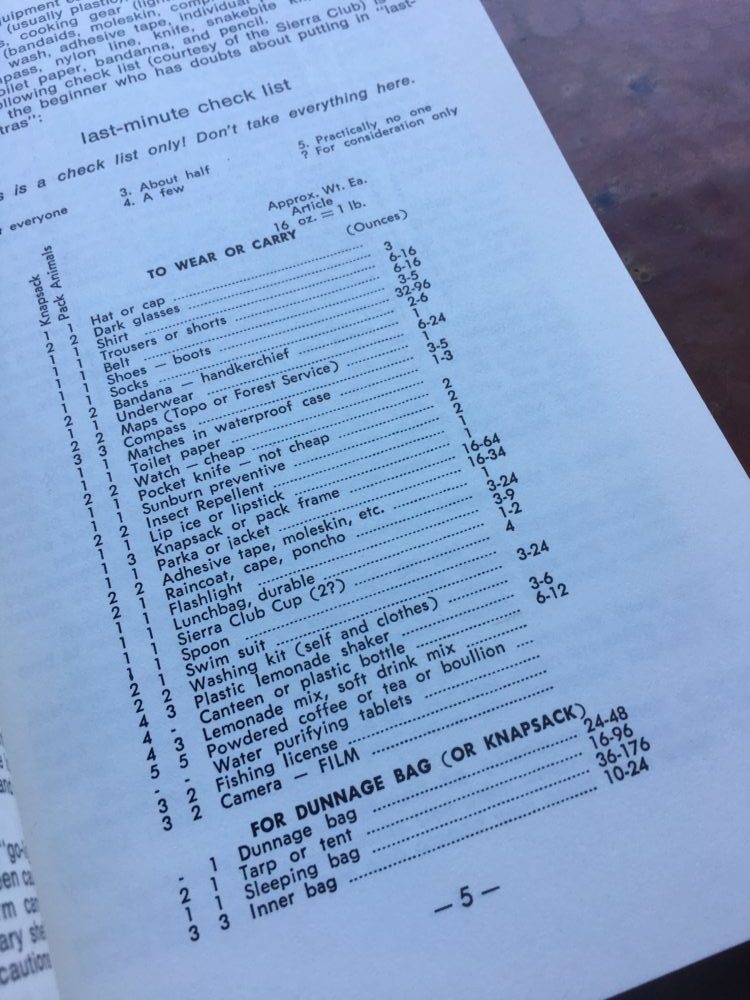 Thoughts: Lunchbag? Swimsuit? Plastic lemonade shaker? Pajamas? Extra glasses (in case)? At first glance, these items are laughably frivolous, especially in the current days of thru-hikers cutting zippers and toothbrushes to save ounces. But when you think about the extra items we now carry—cell phones, solar chargers, DSLR cameras—two sets of Sierra Club cups aren't so bad after all.
Hike Profile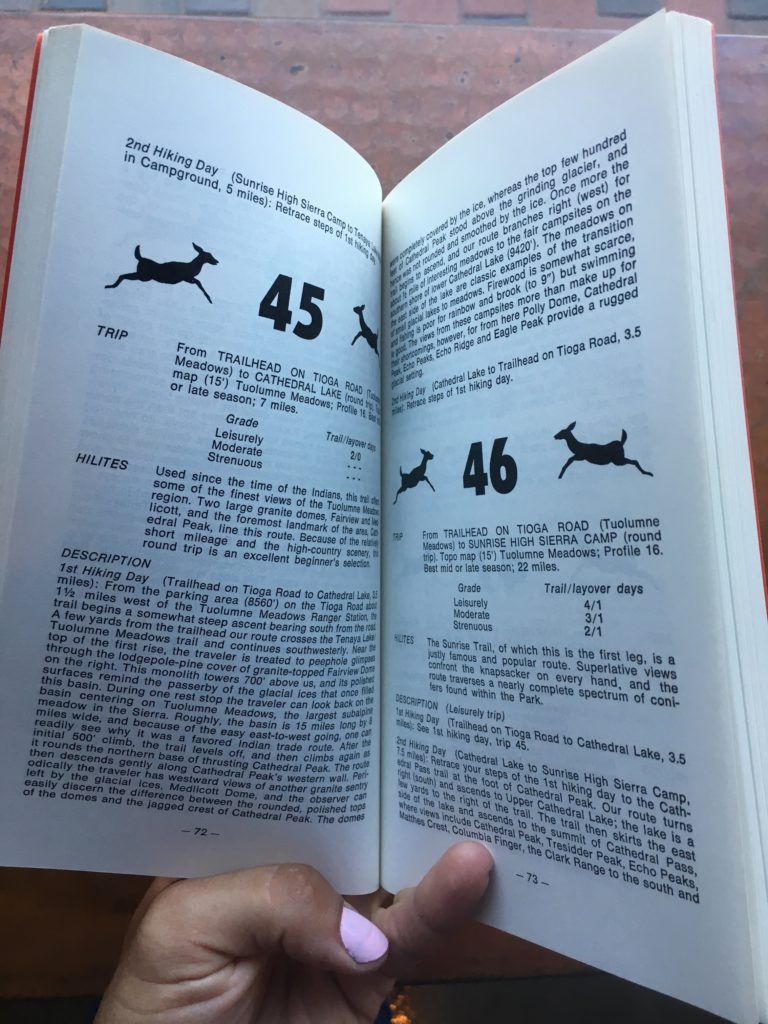 Thoughts: Why, this hike looks like our current hikes! Distances, elevation profiles, difficulty levels, historical backgrounds, and detailed directions are included. Tom Winnett set a standard for Wilderness Press guidebooks in 1967, and we have worked diligently with our authors to uphold that standard.
Our topo maps may be more detailed, our GPS points more accurate, our books more colorful, but it's reassuring to see that, 50 years later, Wilderness Press is still doing what we did with Sierra North—sharing our love of the outdoors with others.
---
For more stories from Wilderness Press, sign up for our newsletter!