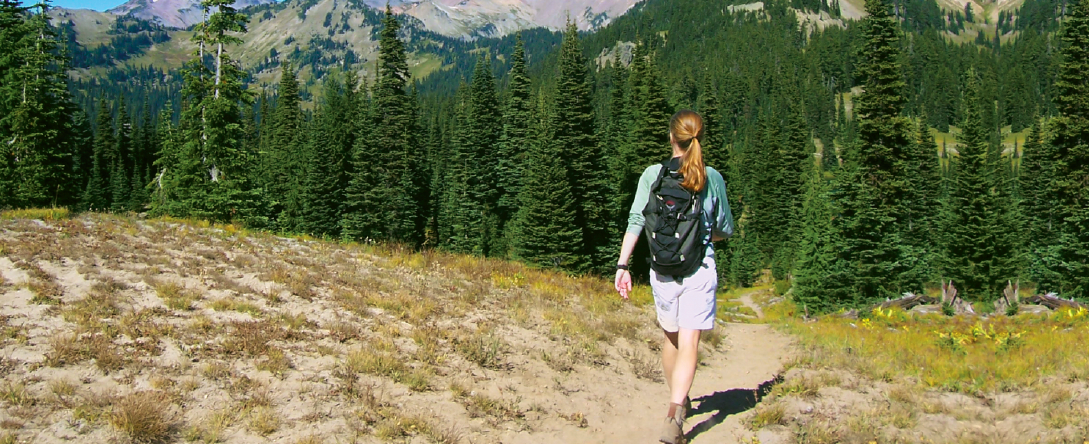 Three Day Hikes on the PCT in Washington
July is by far the most popular time to hike on the Pacific Crest Trail in Washington. And for good reason! The weather is great, the meadows show off their vibrant array of wildflowers, and many of the alpine lakes are just getting warm enough to swim in. The only drawbacks are sharing the trails with other Northwest hikers and escaping from the buzzing, biting insects that swarm the hillsides this time of year. Longer loops into alpine country are great options during the hot summer months.
The new edition of Day & Section Hikes Pacific Crest Trail: Washington by Adrienne Schaefer will hit shelves just in time for you to plan some picturesque day hikes (or long weekends!) on the PCT this summer. Here are three to get you started.
---
Sheep Lake and Sourdough Gap
6.4 miles round-trip
While this hike can be done in 4-5 hours, this is a great introductory backpack for children or anyone else who is looking to "get their feet wet." If you plan to camp here, be aware that Sheep Lake sits at 5,800 feet, so nights can be chilly, no matter what time of year it is. From the moment your feet hit the trail, you are immersed in fields of wildflowers—beargrass, scarlet paintbrush, and columbine, to name just a few.
A flat, sandy spot among large boulders along the lake is a great place to have lunch or take a nap in the afternoon sun. This spot is extremely popular on weekends or sunny, warm weekdays, so plan to share your break with others. Further along the trail you will find breathtaking views of Mount Adams, Mount Rainier, and Goat Peaks Wilderness.
Commonwealth Basin to Red Pass
10 miles round-trip
This is one of the more spectacular hikes in the Snoqualmie Pass area. Proximity to Seattle makes it an ideal destination if you want to slip away for a day or just a long afternoon. This trail has lots to engage children's interest and plenty of convenient turnaround spots if they get tired.
If you are looking for a good lunch spot with a breathtaking view, there are a few side trails branching north off the main trail, just before you reach Red Pass. Try to take the most-used path, which ascends 100 feet to a high point. From there, the views to the north are dramatic, to say the least, with steep, rocky slopes and cascading creeks tumbling toward the deep gorges of the Middle Fork of the Snoqualmie River.
Hope and Mig Lakes
4 miles round-trip
This trail's proximity to Seattle and relatively quick access into Alpine Lakes Wilderness will make you  wonder, "Where are all the people?" But this trail gets your heart pumping from the beginning with a steep, dusty climb through an old clear-cut before entering the cool shade of the forest. Douglas fir, hemlock, and a few old cedars keep you company as you steadily make your way up the valley.
If you are here in late July or August, make sure to leave time to collect a midmorning snack or an afternoon treat.