How to Snag a Permit for Mount Whitney
Posted on
January 23, 2017
The most likely stumbling point during the planning stage is getting a permit to enter the Mount Whitney Zone. Between May 1 and November 1, trailhead quotas are in effect and permits are required for both day hikes and overnight backpacking trips.
The catch is that all permits for both day and overnight trips during the quota period are allocated by lottery, which is open between February 1 and March 15. This isn't a big deal, but it does require some advance planning. And because the lottery system is opening soon, now is the time to plan your 2017 Whitney summit.
How To Better Your Chances of Getting a Mount Whitney Zone Permit
• Because permits are not transferable, list alternate leaders on your permit application to make sure that your group can still use the permit if the original leader is unable to go on the trip.
• Include up to 15 possible dates.
• Include midweek options. On a busy Saturday in summer, 1,000 people may apply for the 60 overnight permits and well over 500 for the 100 day-use permits. Meanwhile, on a midweek date, there will be fewer than 200 requests for overnight permits and 75–150 requests for day-use permits.
• Select a small group size.
• Wait to submit your lottery application until later in February. Before submitting your application, download the PDF titled "Lottery Progress Report" and select less-crowded dates.
• Arrange your schedule to do a midweek day hike because there is a good chance that there will be unclaimed permits—and they're free. Many days, there are 20 unclaimed permits, but you must be at the Eastern Sierra InterAgency Visitor Center outside Lone Pine by 2 p.m. the day before you wish to hike to take advantage of these permits. Look here for more info.
• Because your permit is for a single 24-hour period, if you wish to do a moonlight ascent, you must reach the Mount Whitney Zone boundary no earlier than midnight.
• Make an effort to cancel reservations as soon as you know you won't use them—others will undoubtedly wish to use those permits, and the earlier they can make their plans, the better.
• If you wish to do a longer backpacking trip, you can hike in at a different trailhead, such as Cottonwood Pass, New Army Pass, or Kearsarge Pass and exit via Whitney Portal.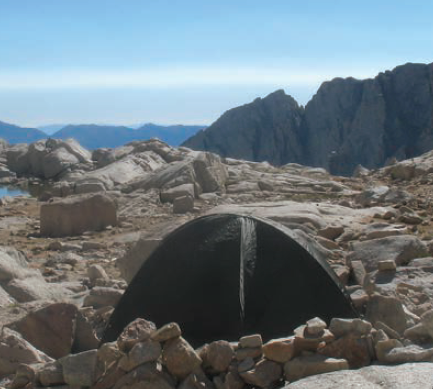 Win the permit lottery? Congrats! Overnight permits must be picked up or confirmed by 10 a.m. on the departure date. Dayhike permits must be picked up or confirmed by 1 p.m. the day before the permit date. You may confirm your permit in person or call the Inyo National Forest Wilderness Permit Reservation Office at 760-873-2483.
Note that permits that cross into Sequoia or Kings Canyon National Parks overnight must be picked up in person—this regulation will not affect those doing an out and-back trip along the Mount Whitney Trail.