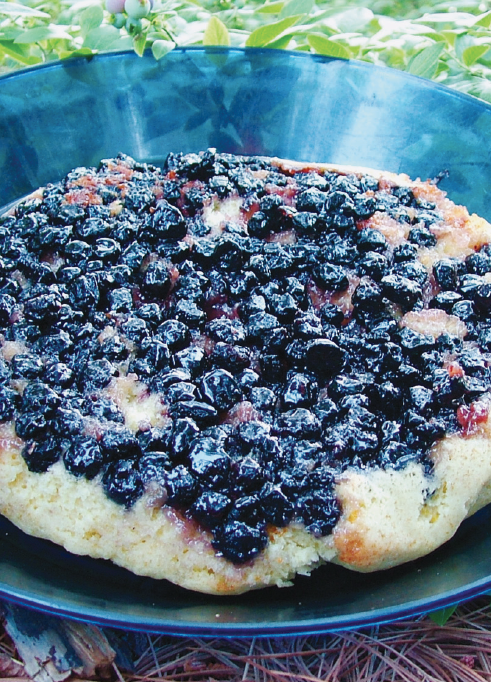 Friday Foods – Black Currant and Lemon Fry Cake
Who says you need an oven to bake a cake? This spongy white cake from A Fork in the Trail has a nice lemon flavor and is simple to make.
Black Currant and Lemon Fry Cake
Makes 4 servings
1 tablespoon dried lemon zest
1 tablespoon powdered whole egg
1 tablespoon white sugar
1 tablespoon lemonade powder
1 cup all-purpose flour
2 teaspoons baking powder
1/3  cup nonfat powdered milk
2/3  cup, plus 1 tablespoon water
1/4 cup black currant jam
1 tablespoon butter
At Home
Package the lemon zest in a small zip-top bag. Combine the next 6 ingredients; mix well, and place them in a large zip-top freezer bag. Put the black currant jam in a leakproof container, and add the butter to the other butter you are taking on your trip. If your frying pan does not have a lid, pack a piece of aluminum foil big enough to cover the top.
At Camp
Add 1 tablespoon water to the lemon zest, and let soak for 5 minutes. Add the lemon zest mixture and 2/3  cup of water to the bag of dry ingredients. Mix well. Heat 1 tablespoon of butter in a frying pan over low heat. Pour in the batter. Drop the black currant jam by teaspoonfuls on top of the batter. Run a knife or spoon through the jam and batter on the top of the cake so that some of the batter covers the jam.
When the jam is distributed, cover the pan and fry-bake over low flame for 10 to 12 minutes or until the top begins to look dry. Using a spatula, carefully flip the cake in the pan and cook the top for 5 minutes. If you aren't comfortable flipping the cake in this manner, then turn the cake onto a camp plate or the pot lid and slide it, top side down, back into the fry pan.
Tips
Change the flavor of this recipe by substituting marmalade or cherry, peach, or pineapple jam for the black currant jam. Do not use reduced-calorie lemonade powder in this recipe because it gives an undesired result when baked.