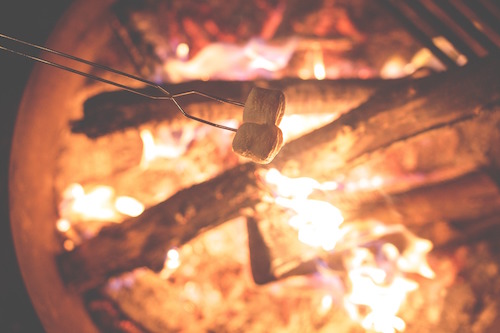 Friday Foods – Tastes like S'mores Pie
Posted on
January 22, 2016
Happy National Pie Day! This no-bake pie recipe from A Fork in the Trail  is a fun twist on a campfire favorite and is great for kids.
Tastes like S'mores Pie
Makes 2-4 servings
1 package instant chocolate pudding mix (4-serving size)
1 pouch whipped cream instant topping
1/3  cup instant nonfat powdered milk
6–8 graham crackers
1/3  cup miniature marshmallows
2 1/4 cups water
At Home
Package the pudding and whipped topping mixes and milk powder in a zip-top freezer bag. Place the graham crackers in another zip-top  bag. Place the marshmallows in plastic wrap or another zip-top bag. Place both smaller bags inside with the larger zip-top bag containing the dry pudding mixture.
At Camp
Break up the graham crackers and place them in the bottom of a pan, or divide them among the bowls. Pour the dry pudding mixture into a wide-mouth Nalgene bottle or a zip-top freezer bag. Add 2–2 1/4 cups cool water.
Close tightly and shake until thick. Pour the pudding over the graham crackers. Top with the marshmallows. Let sit for a few minutes, and enjoy.
Tips
If you prefer to use large marshmallows, toast them before putting them on top of the pie.